How to Make Your Eyebrow Tint Last Longer
There's nothing better than that fresh brow feeling, especially when they've been tinted, but what if you could make it last even longer? Following the correct aftercare advice for eyebrow tinting will help to prolong those salon-fresh brows for weeks after your appointment. Here are our top need-to-know tips.
How long does eyebrow tinting last?
Professional eyebrow tints usually last 4-6 weeks. The colour will gradually fade, the rate at which it does can depend on your hair type, the type of beauty products you use, and how well you care for your brows.
Can I shower or wash my face after eyebrow tinting?
Although it's not a problem to get your eyebrows wet after a tinting treatment, you can try to avoid washing for at least 12 hours. You should also avoid excessive touching or rubbing for 24 hours to avoid irritation. Chlorine can also shorten the wear of your tint, so be wary if you're a regular swimmer.
Is it good to brush my eyebrows?
We get it, brushing your freshly shaped brows with a spoolie brush is very satisfying but beware. Too much brushing can actually lift your tint and contribute to hairs falling out quicker than they should. That's why it's best to brush them into place and then apply a brow gel to set them all day long. Opting for a tinted brow gel also helps to add a slick of colour when you're due your next tint appointment.
What skincare can I use after eyebrow tinting?
As part of your brow tint aftercare, we recommend that the only skincare you need to avoid is anything that contains a tan or gradual tanning agents. The tan can react with the tint, leaving your brows a rather unwelcome shade of green. We recommend avoiding fake tan for three days either side of your treatment.
If your tinting treatment also included some hair removal, such as waxing or threading, you should also avoid exfoliators and anti-ageing skincare formulas on the treated area for three days after your treatment.
How do I keep my eyebrow tint from fading?
If you want seriously long-lasting results, it's always best to go to a professional. At home dyes just aren't the same, plus you don't get the benefit of professional application or a colour match. An appointment with your local HD Brows Stylist includes a custom-blended tint colour, mixed specifically to your requirements.
If you find your tint fades quickly no matter what you do, get yourself a serum to help prolong the wear of your eyebrow tint. Our Brow Miracle Daily Conditioner uses an invisible, flexible film that coats each brow hair to help hold in colour. If that wasn't enough, it also contains amino acid action to rebuild and strengthen hair to condition and care for your beloved brows.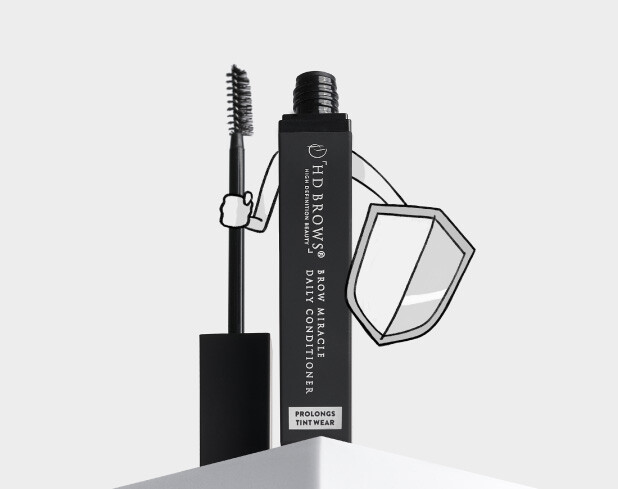 What should I avoid after eyebrow tinting?
To maintain your freshly tinted brow look for as long as possible, here are the key points to remember:
Chemicals such as chlorine can speed up how quickly brows can fade, so try to avoid swimming if you want long lasting results
Anti-ageing and exfoliating skincare should be avoided for three days either side of your treatment. After that, avoid applying around the brow area to prevent premature colour fade
Try not to excessively brush them; just leave it as part of your morning routine and then step away from the spoolie
Use a specialist serum to prolong the wear of tint, such as Brow Miracle Daily Conditioner
Always visit a professional brow stylist, as they will be using a high-quality, long lasting dye